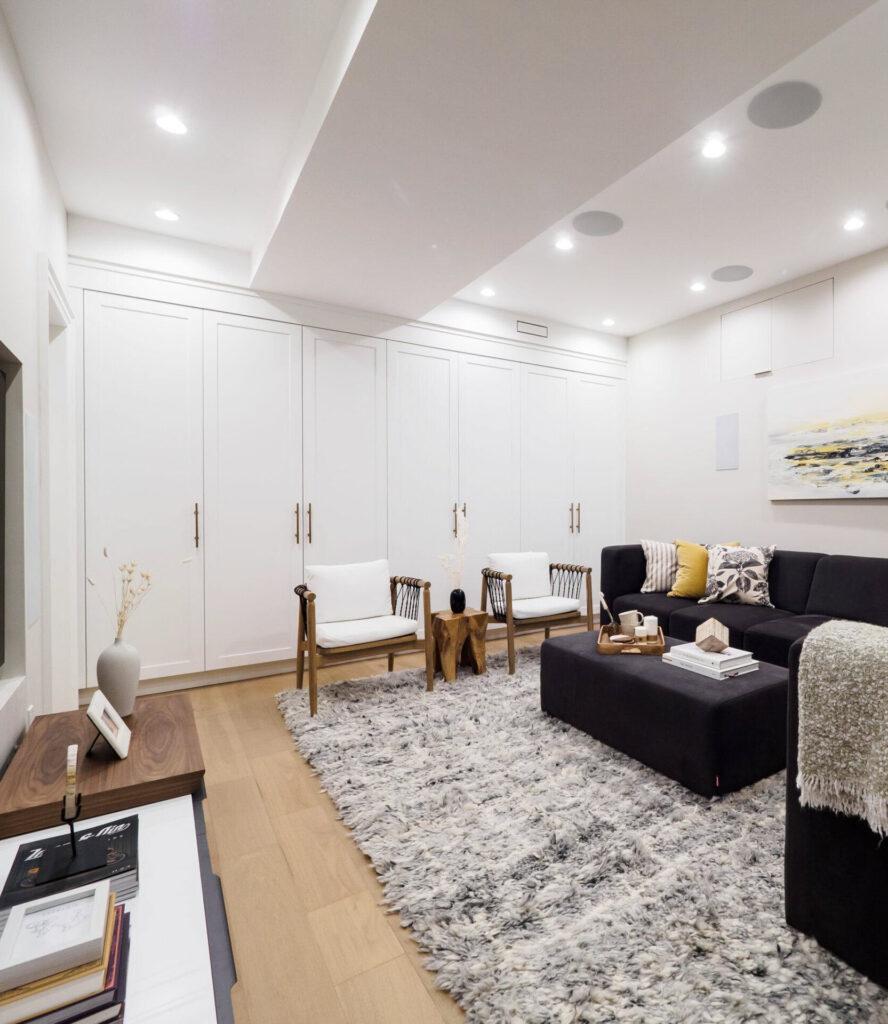 What is Underpinning?
Underpinning is the process of increasing the overall depth of a basement by extending the foundation further into the ground. This not only creates better living space, but also improves the overall strength and longevity of your foundation, and ultimately, your home. Our skilled teams will dig deeper and finish your space too! We take care of it all and make sure things are done properly from first shovel in the ground to finish painting. At Bakerhill Renovations, we have the experience and expertise to transform your basement into what may very well be your new favourite spot in the house!
Economical addition to living space
Higher basement ceilings = Greater home enjoyment!
Basement waterproofing and insulation improvement
Our underpinning process consists of several key steps, including:
Initial Consultation:
We will assess the needs of your home to determine and discuss the most appropriate underpinning solution, project timelines, and budget.
Preparation:
A detailed scope of work agreement will be provided and signed by both parties to ensure you know exactly what is happening and there aren't any unwelcome budget surprises – then we begin!
Excavation & Construction:
The earth beneath your home will be excavated by a combination of hand digging and machinery, and removed by conveyor belts into clean-fill bins.
Finishing:
Your basement will be finished by our team to the highest quality standard. Would you like in-floor heat? A games room? A gym? Bathrooms? You dream it and we'll build it.
Project Delivery:
Upon completion of the work, your home will be professionally cleaned and ready for you to enjoy.
At Bakerhill, our team has years of experience providing underpinning work. We are experts in Toronto where we comfortably navigate the permit process, building code regulations, zoning by-law and soil conditions that are unique to each area of the city. We have successfully increased basement depths around the city to as deep as 9'6" in both detached and semi-detached homes. We work closely with our engineers to ensure that the underpinning work is carried out safely, to Code, and in a manner that maximizes your new living space. We invest in our team and your home by ensuring we have the proper equipment and technology on site to build to the highest standard (feel free to ask about our latest equipment and gadgets, we love talking tools!). Bakerhill is equipped and ready to deliver an underpinning solution that meets your needs and exceeds your expectations.
The cost of underpinning will depend on several factors including soil conditions, proximity to your neighbors, access for bins and soil removal equipment, size of your home, and finishing details. One of our team members would be happy to speak with you about your underpinning project and provide you with an estimate. Bakerhill is proud to provide detailed project proposals to our clients in a timely manner at a competitive price.
Please contact us today to find out more about our underpinning services or to arrange a consultation.